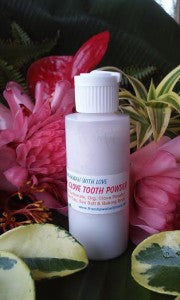 Natural Clove Tooth Powder
Ingredients: Calcium Carbonate, Org. Clove, Bentonite Clay, Baking Soda and Sea Water Mineral
This is a highly effective, refreshing and pleasant Ayurvedic formula. It keeps your teeth white and squeaky clean. Our zesty toothpowder helps prevent cavities, helps sensitive teeth and helps eliminates bad breath.
Natural Clove Tooth Powder is one of our most popular products.
 2-oz. bottle = $ 5.50 (This can last 2 months if used twice daily.)
4-oz. bottle = $ 10.00
Most tooth care products on the market are made with questionable chemical ingredients. And they usually include added sweeteners, as if to entice children to brush. Sweeteners do your teeth no good and may even increase your chances for cavities.
One of the main ingredients in our Natural Clove Tooth Powder is, of course, clove. Clove is traditionally used in Ayurveda for tooth decay and bad breath–because clove kills bacteria that create cavities. It also stimulates the gums and nerves.
Our Natural Clove Tooth Powder is pleasant and refreshing–and it goes a long way.  To use it, just put a little bit of the powder in your hand and then run your wet toothbrush over your hand. We recommend that you also use our Copper Tongue Cleaner to remove toxins from your tongue every morning.
I've been using Natural Clove Tooth Powder for a long time. I started making it for the market recently. Many of my customers requested it, after asking me about my healthy white-looking teeth (I'm 55).  It has quickly become one of our best selling items, with many happy regular customers.
"I'll never use anything else again."  -Malani