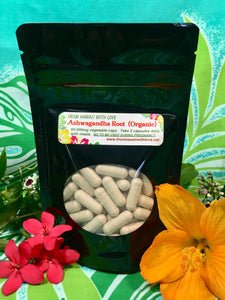 500 mg. Organic Ashwagandha Root Powder  (60 Vegetarian/Gelatin-free Capsules)
Recommended 1-2 Capsules daily with meals.
Traditional uses of Ashwagandha  include:
For improving learning, memory and mental clarity.
Helps combat the effects of stress.
Reducing panic attacks and anxiety.
Battling depression and stabilizing mood swings.
Combating mental and physical fatigue.
Helps reduce brain-cell degeneration.
Improve thyroid function.
Treat adrenal fatigue.
Helps to boost the immune-system.
Increase stamina and endurance.
Stabilize blood sugar.
Helps lower cholesterol.
Helps reduce inflammations
Warning: Not to be used during pregnancy. Consult doctor if planning or recovering from surgery.